SUPZOOM ELECTRIC AIR PUMP 12V DC POWER SOURCE
---
SUPZOOM ELECTRIC AIR PUMP
12V DC POWER SOURCE
Preset pressure LCD screen
Quickly inflate and deflate for SUP
Inflates up to 20 PSI

OPERATION INSTRUCTIONS
Inflation
Deflation
Nozzle to plug into the valve of inflatable paddle board
Set a pressure value, and then press start button to start work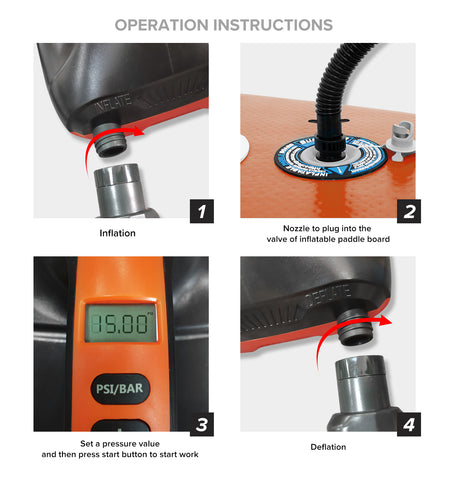 NOTE
Children shall be kept far away from this product and wire.
The applied power source must be the 12V DC power source.
Don't make the air pump work for more than 20 minutes, because that motor overheating may cause internal damage; and the air pump shall be fully cooled for 30 minutes after continuously working up to 20 minutes.
This product shall not be exposed to the rain or immersed in water.
In order to prevent risk, the inflation inlet shall not be forward to face or body.
Please store it in the dry and ventilated place.
Don't pull out the hose when inflating, because that the high pressure may hurt the physical body.
Don't block the air inlet at the bottom of the air pump, and guarantee air inlet to be always unblocked.